Fox Domotics home automation system are WiFi based wireless IoT devices. it connects to home/office WiFi network and can be operated through mobile device (android and iPhone), voice command (Alexa and Google home), IR remote and through touch. Fox Domotics manufactures complete range of home automation products which include
Touch Switches
, WiFi RGBW controller,
WiFi to IR blaster
,
Curtain Motor
, 
Blind Motor
, TV Lift Motor and Swing Door Motor.
Light Control System
We have different models in different sizes as per retrofit standard. All our touch switches are 100% Retrofit and fits into existing electrical metal conceal boxes. The conceal boxes comes in different sizes like 2 module, 3 module, 4 module, 6 module and 12 module. Fox Domotics have touch switches for all different models lik
e 2 module, 3 module, 4 module, 6 module and 12 module. It makes wide variety of choice, to fit into every ones requirements.
The look and feel is amazing. every touch switches comes with elegant crystal glass finish front panel with capacitive touch. We have 3 different color of glass to choose for each model i.e. Black, White and Gold. Different color have its own richness and it b
lends on your wall to give a rich look and enhance your interiors.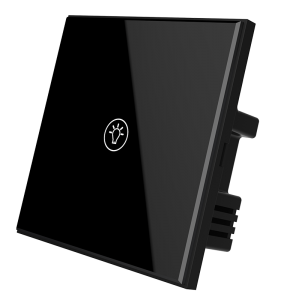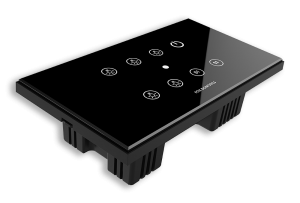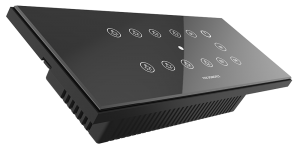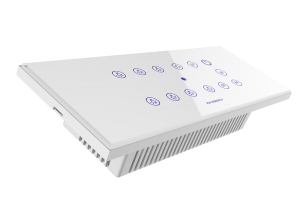 We have WiFi range of Touch Switches which can be operated through voice, mobile, IR Remote and Touch and we call them as
WiFi Touch Switches
. We also have non WiFi rage of Touch Switches which can be operates through IR remote and Touch only. All our WiFi Touch Switches and Standard Touch Switches have 3 different functions
Fan Dimmer (Capacitive 4 step, without hamming noise)
Light Dimmer ( Triac based smooth light dimmers for all type of dimmable light like Led panel light, Led Strip Light and halogens) Note: Led light require phase cut dimmable Led drivers.
On /Off Relay (12 A 230VAC Omron relay, can connect any load max 500W on each point)
Depending on above 3 combination we have different models in each sizes and so it becomes easier to choose as per requirement.
WiFi RGB/RGBW Controller
Fox Domotics offers RGBW strip light control for getting millions of color. this device is WiFi based RGBW controller and can be operated through mobile which comes with color pallet selections. One can decorate with beautiful color from this device in your home/office. it gives you best way to select million of colors and also adjust the brightness as per your mood. Helps in creating unique ambiance with ease.
WiFi to IR converter (IR Blaster)
With more number of remote controlled devices at home like TV, Set-top box, Music System, AC temperature control etc. it becomes difficult to manage and use so many remote. Fox Domotics IR Blaster is the solution of choice. With this single device you can control 4-6 different device. It has 4 port for probes output. IR Probes comes in 2 variant Single emitter Probe and double emitter probe. Since Fox Domotics IR blaster is WiFi based we just need to configure it with the existing home/office WiFi network and start using the device. Their many learned IR code available and even we can learn any remote with same device if it is not in our database. The learning has to be done Once and their after it is saved in our database permanently.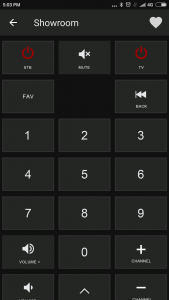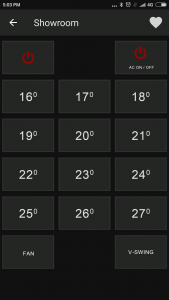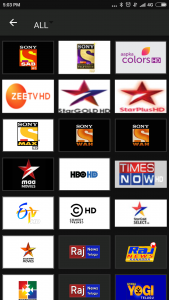 Curtain and Blind motor for Windows
Fox Domotics curtain motors and blind motors are heavy duty, long life and silent operation motors for window automation. All our motor are silent operation and comes with 5 years warranty of motor(*see Warranty terms and Condition). we have WiFi touch switch for motor control. We have 2 models, single motor and double motor options available. Thus curtain and blinds can be controlled through voice, mobile, touch and IR remote. We have RF remote controlled motors also used in offices where only RF remote is required.
TV Lift Motor
Fox Domotics TV lift motor is for lifting TV up and down. The motor is heavy duty, long life and silent operation. the lifting weight capacity is around 55 KG and a big 70 inch TV can be mounted easily.
Swing Door Motor
Fox Domotics Swing door motor is used for 90 degree swing door. The motor is heavy duty, long life and silent operation. It can swing a door up-to 120 KG of weight.